* Exported from MasterCook *

Spring Rolls with Thai Peanut Butter Sauce

Recipe By : Cuisine at Home
Serving Size : 14 Preparation Time :0:00
Categories :

Amount Measure Ingredient -- Preparation Method
-------- ------------ --------------------------------
Marinade:
1/4 cup soy sauce
2 tablespoons brown sugar
2 tablespoons rice vinegar
2 tablespoons sesame oil
1 1/2 tablespoons cornstarch
1 tablespoon minced garlic
1 tablespoon minced fresh ginger root
...
Rolls:
8 ounces pork loin, cut into 2×1/4-inch strips
14 small shrimp, peeled, deveined, and rinsed
2 cups peeled, grated sweet potatoes
8 ounces cellophane noodles
2 cups hot water
1/4 cup cider vinegar
14 rice paper sheets
1 1/2 cups thinly sliced shiitake mushrooms
1 cup shredded Napa cabbage
14 fresh cilantro leaves, rinsed and patted dry with paper towel
...
Thai Peanut Sauce:
1/2 cup Hoisin sauce
1/2 cup creamy peanut butter
1/2 cup low-sodium chicken broth
3 tablespoons light soy sauce
3 tablespoons honey
2 tablespoons minced garlic
2 tablespoons minced ginger root
2 tablespoons sesame oil
2 tablespoons red wine vinegar
1 tablespoon sugar
1 tablespoon chili garlic sauce

These fresh Asian rolls make great appetizers or starters before the main course. Serve them with Thai Peanut Sauce for dipping.

Rolls:

Whisk together soy sauce, brown sugar, rice vinegar, sesame oil, cornstarch, garlic, and ginger root in a bowl. Add pork to mixture and marinate 15 minutes at room temperature. Heat a nonstick skillet over medium-high heat. Add pork with marinade; sauté until pork is no longer pink, about 5 minutes. Set pork mixture aside to cool.

Blanch shrimp by plunging them into salted boiling water until cooked through, 1–2 minutes. Drain shrimp and let cool. When shrimp are cool enough to handle, cut each in half lengthwise. Blanch sweet potatoes in a fresh batch of salted boiling water until cooked through, about 2 minutes. Rinse sweet potato with cold water, drain, then spread on paper-towel-lined plate to dry.

Place noodles in a bowl; cover with boiling water for 15 minutes, then drain well. Use kitchen shears to cut noodles into short pieces. [Photo 1] Combine hot water and vinegar in a large bowl.

Soak one rice sheet until softened, about 1 minute. (Keep remaining rice sheets in their package so they don't curl). Place softened sheet on damp towel. [Photo 2] Put second sheet in liquid.

To assemble roll, arrange pork, sweet potatoes, noodles, mushrooms, and cabbage on bottom edge of softened rice sheet. Pull edge of sheet over filling and tuck edge under as you roll. Keep it tight and watch so filling doesn't push out ends of roll. Try to maintain a 1-inch margin on sides. Roll up rice sheet halfway. Arrange 2 shrimp halves, with cut side facing up, and 1 cilantro leaf on rice sheet. Leave a 1-inch margin on each side. [Photo 3] Fold sides of rice paper inward; finish rolling. Place completed roll seam-side-down on tray that has been lined with damp paper towels. Cover with damp towel. Prepare remaining rolls.

Serve with Thai Peanut Sauce. (See Below)

Thai Peanut Sauce:

Combine all ingredients in a saucepan and bring to a boil. Reduce heat and simmer sauce for 2 minutes. Remove sauce from heat and cool to room temperature. Serve cool or keep refrigerated until ready to use.

Makes: 1 3/4 cups Peanut Sauce
Makes: 14 rolls

Contributed to the FareShare Gazette by Art; 2009
www.fareshare.net

- - - - - - - - - - - - - - - - - -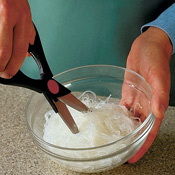 1. Kitchen shears make short work of cutting the softened noodles. Simply snip the noodles into short pieces.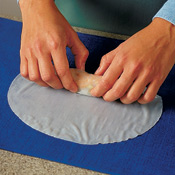 2. Rolling the rice paper on a wet towel prevents the roll from slipping as you work.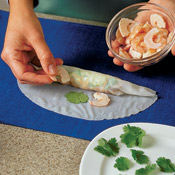 3. Arrange the shrimp cut side up so the pretty side of the shrimp is visible when the roll is completed.