The Strawberry
Dipped in Chocolate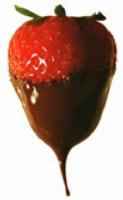 Cultivated strawberry varieties belong to the Rosaceae family and are mainly derived from two species, Fragaria virginia and F. chiloensis.
Flourishing in a broad variety of soils, strawberries are not particularly sensitive to acidity or alkalinity and have adapted to a larger range of climate than any other temperate-region fruit. Strawberries are susceptible to drought, however, and often require irrigation by furrow or sprinkler.
The strawberry fruit is the stem end in which are partially embedded the many true fruits or seeds.
Because strawberries are highly perishable and do not lend themselves to be picked mechanically, they are usually grown near areas where manual labor is available. Strawberries are produced commercially for processing as frozen, canned or preserved berries, or as juice.
The tempting berries are also popularly used in making preserves and pie fillings. Strawberry shortcake, composed of fresh strawberries, sponge cake and whipped cream, is an American favorite. For some other great ideas, visit our Strawberry Recipes!