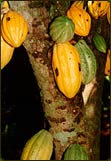 Ripening pods on the cacao tree contain the seeds from which chocolate is made.
© "Wilbur Chocolate, A Cargill Foods Company"
Candy bars, milk shakes, cookies, flavored coffee — even cereal and medicine! Chocolate is a key ingredient in many foods. In fact, it ranks as the favorite flavor of most Americans. And yet, few of us know the unique origins of this popular treat.

The story of chocolate spans more than 2,000 years and now circles the globe. The tale began in the tropical rainforests of Central and South America where cacao (kah KOW) first grew. Chocolate is made from the seeds of the cacao tree.

But the journey from seed to sweet is a long one, spanning many centuries and requiring many processes.

To learn about Growing Chocolate, the History of Chocolate, Eating Chocolate, Making Chocolate, and much, much more, visit the Chicago Field Museum website "All About Chocolate."

At the "Chocolate Information Center" website, supported by Mars, Inc., you will find more chocolate facts then you can imagine, including nutritional components.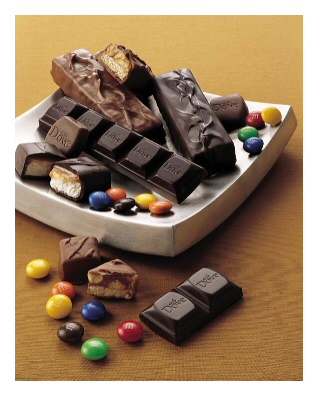 At "Valentines, Spike-Jamie's website" you will find more chocolate information including great "how to" tips, like this substitution chart.
| | | |
| --- | --- | --- |
| Chocolate chips | 1 ounce | 1 ounce sweet cooking chocolate semisweet |
| Chocolate, semisweet | 1-2/3 ounce | 1 ounce unsweetened chocolate and 4 teaspoons sugar |
| Chocolate, semisweet chips, melted | 6-ounce package | 2 squares unsweetened chocolate, 2 tablespoons shortening and 1/2 cup sugar |
| Chocolate, unsweetened | 1 ounce or square | 3 tablespoons cocoa and 1 tablespoon fat |
And at "Free Chocolate Information" you can find a few more tidbits, including this recipe:
Chocolate Whoppers

4 cups vanilla wafer chunks (about 120 cookies, crushed
2 cups (4 sticks) cold butter, divided
2 cups finely chopped nuts
2 cups Cocoa, divided
2 cups tiny marshmallows
1 1/2 cups white sugar
2 cups crushed thin pretzels or pretzel sticks (about 1-inch pieces)
2 cups Sweetened Coconut Flakes
2 cans (16 oz.) sweetened condensed milk
1. Heat oven to 340°F. Grease bottom and sides of deep baking pan.
2. Stir together crumbs, 1/2 cup cocoa and sugar; cut in 1-1/2 cups (3 sticks) butter with blender or 2 knives until mixture is crumbly. Press evenly on bottom and 1/2-inch up sides of prepared pan. Sprinkle marshmallows and coconut over chocolate layer.
3. Combine sweetened condensed milk, remaining cup cocoa and remaining half cup (one stick) butter in microwave-safe bowl. Microwave at HIGH (100%) 1 to 1-1/2 minutes or so then evenly pour over coconut. Sprinkle evenly with the pieces and then firmly press down.
4. Bake about 30 minutes or just until dark and bubbly. Cool until firm then cut into bars.
Makes about 5 dozen chocolate whoppers.
At "Chocs Away..." you will find some wonderful Chocolate Recipes, including Chocolate Truffles, Chocolate Fondue, and even Chocolate Body Paint!