From: Roberta Banghart <bobbi744@comcast.net>
Sent: Thursday, June 13, 2013 10:10 PM

I made this recipe because I had everything in
the house and we wanted a soup and sandwich meal.
We both were really pleased with the result. It
didn't just taste like canned soup. Very delectable.
I did use quick barley and only had to cook this
for about half the time required. I'd like to try it
with regular barley.

* Exported from MasterCook *

Campbell's® Creamy Mushroom Barley Soup

Recipe By : Campbell's® Quick and Easy Cookbook
Serving Size : 6 Preparation Time :0:05
Categories :

Amount Measure Ingredient -- Preparation Method
-------- ------------ --------------------------------
2 tablespoons butter OR 2 tbsp. margarine
1 cup sliced mushrooms
1 medium onion -- chopped
1/3 cup uncooked barley
1 can Campbell's® Cream of
Mushroom OR 1 can Campbell's® 98% Fat Free Cream
of Mushroom Soup -- (26 oz.) Soup
3 cups water
1/4 teaspoon dried thyme leaves -- crushed
1/4 teaspoon Pepper
Chopped fresh parsley

MELT butter in saucepan. Add mushrooms and onion
and cook until tender. Add barley and cook until lightly browned.

ADD soup, water, thyme and pepper. Heat to a
boil. Cover and cook over Low heat 40 minutes or
until barley is done. Garnish with parsley.

Serves: 6

Source: "Family Time Daily Recipe"
S(MC Formatted by:): "bobbi744@comcast.net"
Copyright: "Copyright © 1999 - 2005 FamilyTime.com, Inc."
T(Cooking Time): "0:50"

Contributed to the FareShare Group by Bobbie; June 2013
www.fareshare.net

- - - - - - - - - - - - - - - - - -

From: Art Guyer <aguyer42@myactv.net>
Sent: Wednesday, June 12, 2013 8:57 AM

This is the potato salad I fixed with the stuffed flounder yesterday.

* Exported from MasterCook *

Red Potato Salad With Sour Cream and Dill

Recipe By : Diana Rattray, adjusted by Art
Serving Size : 6 Preparation Time :0:00
Categories :

Amount Measure Ingredient -- Preparation Method
-------- ------------ --------------------------------
2 pounds small red potatoes, scrubbed
1 teaspoon salt
3 eggs, hard-cooked and diced
3 ribs celery, finely diced
1/2 cup diced red onion
4 green onions, thinly sliced
2 tablespoons diced dill pickle, or pickle relish
...
Dressing:
3/4 cup mayonnaise
1/2 cup sour cream
1 tablespoon cider vinegar
2 teaspoons Dijon mustard
1 tablespoon freeze dried or fresh dill, or about 2 teaspoon dried dill
1/2 teaspoon salt
1/8 teaspoon pepper

This potato salad is nicely seasoned with the addition of dried dill and
chopped dill pickle, along with the tangy mayonnaise and sour cream
dressing. It's a great salad to take along to the cookout, or serve as a
side dish with lunch sandwiches.

Cut the potatoes into small, bite-size chunks and place in a medium
saucepan. Cover with water, add 1 teaspoon salt, and boil for about 10 to 12
minutes, until just tender; watch carefully so they don't over cook. Pour off
water, set the pan in a sink or larger pan of cold water to cool the
potatoes quickly.

In a large bowl, combine the potatoes with eggs, celery, onions, and diced
dill pickle.

In another bowl, combine the dressing ingredients. Add to the potatoes and
stir gently to combine. Adjust salt and pepper to taste.

Serves 6.

Contributed to the FareShare Group by Art; June 2013
www.fareshare.net

- - - - - - - - - - - - - - - - - -

From: Art Guyer <aguyer42@myactv.net>
Sent: Wednesday, June 12, 2013 8:38 AM

I made this yesterday for dinner. Very nice. Served it with roasted
asparagus and red potato salad.

* Exported from MasterCook *

Crab-Stuffed Flounder Rollups

Recipe By : Art Guyer
Serving Size : 8 Preparation Time :0:00
Categories :

Amount Measure Ingredient -- Preparation Method
-------- ------------ --------------------------------
1 cup flavored breadcrumbs, divided
1 (12-ounce) can good quality crabmeat
1/4 cup red onion, finely diced
1/4 teaspoon Old Bay Seasoning
1/2 teaspoon House Seasoning, see note
1/2 cup mayonnaise, or more if needed to bind mixture
1 tablespoon cider vinegar
8 flounder fillets
Olive oil
Paprika
Fresh lemon juice

Pre-heat oven to 425F.

Line a baking sheet with foil and lightly grease with oil (I used PAM
spray).

Place half the breadcrumbs in shallow plate. Rinse and strain crabmeat under
cool water. Press out water and pat dry with paper towels. Combine crabmeat
with remaining breadcrumbs, onions, vinegar, Old Bay Seasoning, House
Seasoning and mayonnaise. Mix well. Adjust seasoning to taste.

Lightly coat each fillet with olive oil, then in the reserved breadcrumbs.
Spread some crab mixture onto each fillet. Roll up and secure with a
toothpick. Arrange rollups on prepared baking sheet, seam side down.
Sprinkle with paprika. Bake for 12 - 20 minutes or until fish is no longer
translucent (internal temperature of 145F).

Sprinkle lemon over fish before serving if desired. Serve with tartar
sauce, if desired.

Notes: House Seasoning is your own blend of seasoning that you use
frequently. It speeds up the process when cooking since you don't have to
grab all of the individual seasonings that you usually use. Mine generally
consists of 2 tablespoons Kosher salt, 2 tablespoons restaurant grind black
pepper, 1 teaspoon granulated garlic, 1 teaspoon onion powder, 1/2 teaspoon
sugar, 1/8 teaspoon cayenne, 1/8 teaspoon paprika (measurements approximate
and ingredients change from time to time). I mix a batch of this when
needed and we keep a container near the stove top and one near the dining
table.

This turned out very good last night (June 11, 2013). It will be done again
in this house.

Contributed to the FareShare Group by Art; June 2013
www.fareshare.net

- - - - - - - - - - - - - - - - - -


From: Art Guyer <aguyer42@myactv.net>
Sent: Monday, June 10, 2013 3:29 PM

* Exported from MasterCook *

Fudge Lover's Strawberry Truffle Cake

Recipe By : Betty Crocker
Serving Size : 12 Preparation Time :2:50
Categories :

Amount Measure Ingredient -- Preparation Method
-------- ------------ --------------------------------
Cake:
1 box Betty Crocker® SuperMoist® chocolate fudge cake mix
Water, vegetable oil and eggs called for on cake mix box
...
Ganache Filling and Topping:
2 packages (8 oz each) semisweet baking chocolate, finely chopped
1 1/3 cups whipping cream
1/4 cup butter (do not use margarine)
2 cups cut-up fresh strawberries
...
Garnish:
6 fresh strawberries, cut in half lengthwise through stem
1/4 cup white vanilla baking chips
1/2 teaspoon vegetable oil
...
Dipped Strawberries: (Optional)
1 pint (2 cups) medium-large strawberries (18 to 20 strawberries)
1/2 cup white vanilla baking chips (or your favorite)
1 teaspoon shortening or vegetable oil

Heat oven to 350°F (325°F for dark or nonstick pan). Make and bake cake as
directed on box for 13x9-inch pan. Cool completely, about 1 hour.

Meanwhile, in large bowl, place chopped chocolate; set aside. In 2-quart
saucepan, heat whipping cream and butter over medium heat, stirring
occasionally, until butter is melted and mixture comes to a boil. Pour cream
mixture over chocolate; stir until smooth.

Line bottom of 9-inch springform pan with waxed paper. Cut cake into 1-inch
cubes. In large bowl, beat half of the cake cubes on low speed until cake is
crumbly. Add remaining cake cubes and 1 3/4 cups of the ganache (reserve
remaining ganache for topping). Beat on low speed 30 seconds, then on medium
speed until well combined (mixture will look like fudge). Fold in 2 cups
cut-up strawberries. Spoon mixture into springform pan; smooth top. Cover
with plastic wrap; freeze about 45 minutes or until firm enough to unmold.

Run knife around side of pan to loosen cake mixture. Place serving plate
upside down on pan; turn pan and plate over. Remove waxed paper lining.
Frost side and top of cake with reserved ganache.

Arrange strawberry halves on top of cake; or alternatively, used dipped
strawberries for garnish. See photo below.

White Chocolate Drizzle:
In small microwavable bowl, microwave baking chips and 1/2 teaspoon oil
uncovered on High 45 seconds, stirring every 15 seconds, until melted. Place
in small re-sealable food-storage plastic bag; cut off tiny corner of bag.
Drizzle over top of cake.

Dipped Strawberries:
Gently rinse strawberries and dry on paper towels (berries must be
completely dry). Line cookie sheet with waxed paper. In 1-quart saucepan,
melt vanilla baking chips and shortening over low heat, stirring frequently.
Remove from heat. (Can be done gently in the microwave.) Use chocolate
chips if you desire.

Dip lower half of each strawberry into vanilla chip mixture; allow excess to
drip back into saucepan. Place on waxed paper-lined cookie sheet.
Refrigerate until coating is firm, about 30 minutes, or until serving time.

Refrigerate until ready to serve. Best served the same day.

Makes 12 servings

Notes: My granddaughter made this cake (photo below) for Doris' birthday
dinner. She did an excellent job, both with the cake and the dipped
strawberry garnish. She used a large round serving plate and had room
around the edge for a lot of chocolate-dipped strawberries. It was
delicious, but beware of the calories and fat in this baby!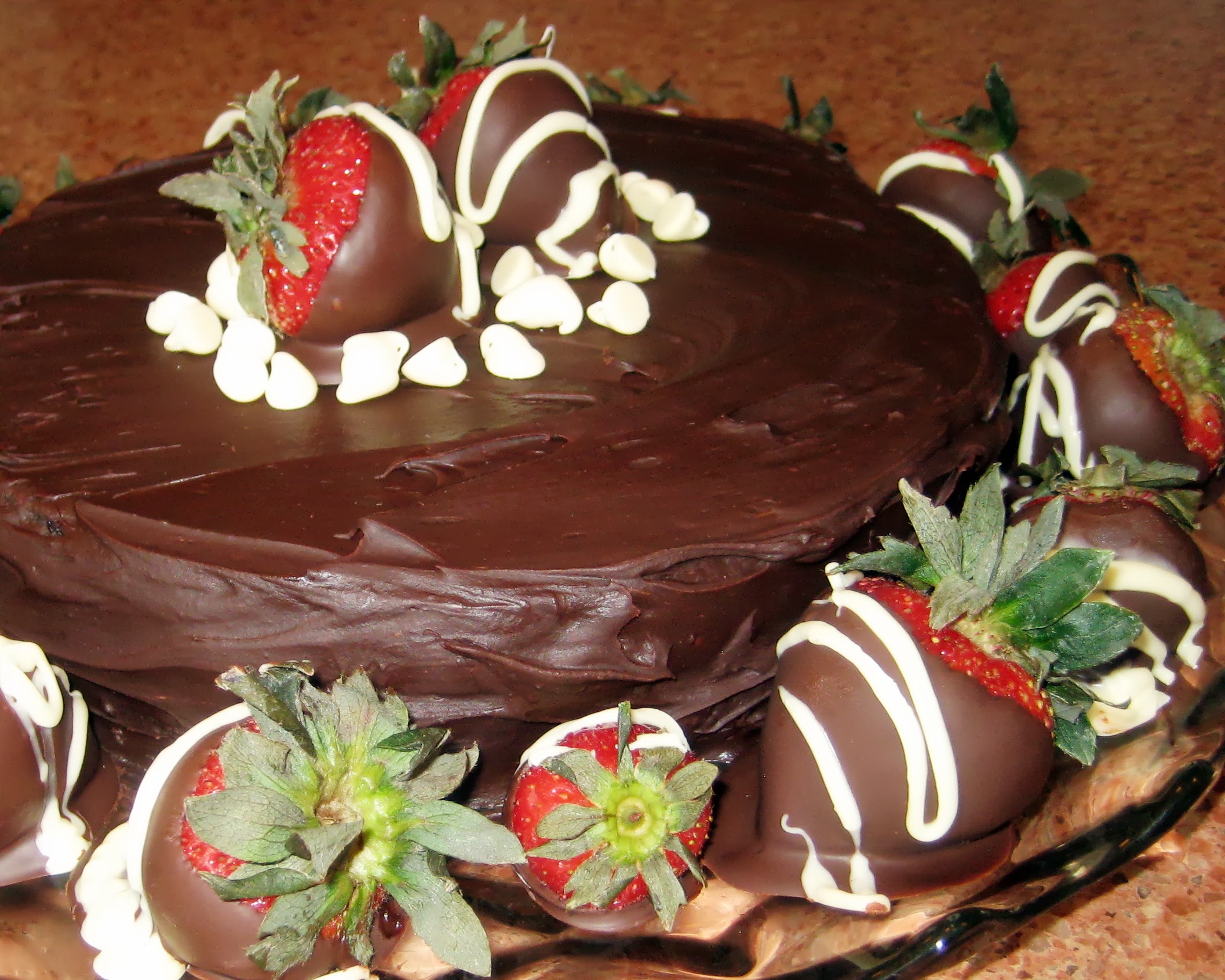 Contributed to the FareShare Group by Art; June 2013
www.fareshare.net

- - - - - - - - - - - - - - - - - -


From: Constance Garlitz <cmbg20@att.net>
Sent: Sunday, June 09, 2013 5:18 PM

Had to take bar cookies to a reception at church today, so I tried something
new. Found this at www.betterrecipes.com. I was only able to taste a few scraps
(from leftover pieces - I don't cut very straight) but they were very good.

* Exported from MasterCook *

Magic Raspberry Cookie Bars

Recipe By :
Serving Size : Preparation Time :0:00
Categories :

Amount Measure Ingredient -- Preparation Method
-------- ------------ --------------------------------
2 cups graham cracker crumbs
1/4 cup sugar
1/2 cup butter or margarine, melted
1 can sweetened condensed milk
1 1/4 cups seedless red raspberry preserves
1 1/3 cup flaked coconut
1 cup chopped pecans or walnuts

Combine crumbs and sugar; add butter or margarine. Combine well, press in 9x13
inch pan (recipe didn't state if greased or not, so I greased it lightly)
Evenly drizzle sweetened condensed milk over crumbs. Refrigerate for 10
minutes. Spoon preserves over top (I used homemade raspberry jam with seeds);
sprinkle with coconut and nuts. Bake at 350F for 25-30 minutes or until light
brown.


Contributed to the FareShare Group by Connie; June 2013
www.fareshare.net

- - - - - - - - - - - - - - - - - -


From: Roberta Banghart <bobbi744@comcast.net>
Sent: Sunday, June 09, 2013 4:58 PM

This was a very nice version of this dish.

* Exported from MasterCook *

Hungarian Goulash

Recipe By :
Serving Size : 8 Preparation Time :0:00
Categories :

Amount Measure Ingredient -- Preparation Method
-------- ------------ --------------------------------
3 tablespoons corn oil
2 onions -- chopped
1 green pepper -- chopped
1 clove garlic -- crushed
5 cups water
1 to 1 1/2 pounds beef stew meat -- in 1" cubes
3 tablespoons paprika -- (Hungarian is best)
2 teaspoons salt -- (or more to taste)
1/2 teaspoon crushed red pepper -- (or to taste)
1 teaspoon caraway seeds
2 pounds potatoes -- peeled, in 1" cubes
16 ounce can tomatoes -- drained, cut in large pieces
12 cups cooked noodles -- buttered

In a five-quart saucepan, saute' onions, pepper and garlic in oil
until tender. Add water, beef, paprika, salt, red pepper and caraway
seeds. Bring to a boil, reduce heat, cover and simmer for 2 hours or
until meat is tender. Add potatoes, cover and cook 15 minutes or
until potatoes are tender. Add tomatoes and heat thoroughly. Serve
over buttered noodles.

Makes 6-8 hearty servings.

Source: "Good Country Cooking, p. 26"
S(mastercook formatting by) "bobbi744@comcast.net"
Copyright: "Beth Dooley, (c) Wellspring, York, Pennsylvania"
Yield: "6 to 8 servings"

NOTES : This hearty dish is the Americanization of Hungarian gulyas,
meaning shepherd's dinner. It makes a great supper for a crowd.
Leftovers freeze well.

Bobbie's Note: This is very good. I didn't like the very thin gravy
(sauce) so took out about 2/3 cup of liquid before adding tomatoes
and when it was cooled a bit, I added 2 tablespoons cornstarch. This
made it a much better consistency.

This made about 6-8 servings so I froze 1/3 of the recipe for a third
meal later and chilled 1/3 with noodles to reheat in the microwave.

Contributed to the FareShare Group by Bobbie; June 2013
www.fareshare.net

- - - - - - - - - - - - - - - - - -

From: hderhut@charter.net
Sent: Saturday, June 08, 2013 8:06 AM

Had a friend over who doesn't eat any meat except chicken. I didn't want
to serve her more chicken, so fixed this for the first time. We both liked
it very much so I thought I'd pass it along. If it seems that I'm
hogging the submission's it is because being a foody and retired with
nothing critical on my daily schedule, I have the time.

I have a rice steamer so usually keep plenty of brown rice cooked up
ahead of time. I used that in this recipe.

* Exported from MasterCook *

Vegetable Paella

Recipe By :
Serving Size : 4
Categories :

Amount Measure Ingredient -- Preparation Method
-------- ----------- -------------- ------------------
1 tablespoon olive oil
1 yellow onion, sliced into strips
2 bell peppers, sliced
1 small bulb fennel, core removed and sliced
3 garlic cloves, sliced
1 teaspoon paprika
1/2 teaspoon turmeric
1 pinch cayenne pepper
1 large bay leaf
1 cup no salt added diced tomatoes
1 cup brown rice
1/4 cup red wine vinegar
2 1/2 cups boiling water
1 cup canned or frozen lima beans, drained and rinsed
...
Pesto:
1/2 bunch flat-leaf parsley, leaves only
8 Kalamata olives, pitted
1 clove garlic
1 lemon zested and juiced

Place a large sauté pan over medium heat, then add the oil. Add the
onions and peppers when the oil is hot and cook for four minutes,
stirring occasionally.

Add the fennel and garlic, and cook for another 2 minutes.

Add all the spices and the bay leaf, and stir constantly for 1 minute.

Add the tomatoes, stir to combine, then add the vinegar and scrape
the bottom to pull up any caramelized bits.

Add the rice to pan, stir and cook for one minute. Slowly add the
boiling water to the pan, stirring to combine.

Raise the heat to medium-high, bring to a boil, then reduce heat to
medium-low and simmer for 40 minutes.

Meanwhile, prepare the pesto, either in a food processor or by
chopping all the ingredients together.

After 35 minutes, stir in the lima beans, cook for 5 minutes, then
remove from heat. Stir in the pesto and serve immediately.

Tip: Make this a quick cook recipe: Use 2 cups heat-and-eat brown
rice, reduce hot water to 1/2 cup, and cook for 5 minutes before
adding the lima beans.

If you don't want to make the pesto, A good salsa would work fine.

Contributed to the FareShare Group by David; 2013
www.fareshare.net

- - - - - - - - - - - - - - - - - -

From: hderhut@charter.net
Sent: Thursday, June 06, 2013 1:11 AM

Looking through my recipe collection I found this variation of humus. It
looked good so I made some up. I like it. Hope you do also.

Smoky from the cumin with a hidden serving of vegetables, this dip is
equally delicious in a burrito as it is spread on tortilla chips.

* Exported from MasterCook *

Black Bean Humus

Recipe By :
Serving Size : 16
Categories :

Amount Measure Ingredient -- Preparation Method
-------- ------------ ----------- ------------------
3 cups cooked black beans (about 2 cans,
drained and rinsed)
1 small onion, diced
1/2 green pepper, diced
3 cloves garlic, minced
2 tablespoon ground cumin
1 1/2 teaspoon olive oil
2 tablespoon chopped fresh cilantro
1/4 cup vegetable broth

Drain and rinse black beans if using canned.
Place olive oil in skillet set over medium-high heat. Add onions,
peppers, and garlic and sauté about three minutes, until vegetables
are fragrant and starting to brown slightly. Add cumin, stir well,
reduce heat to medium and cook another two minutes.

Place beans in food processor and pulse several times. Add
vegetable mixture and pulse a few more times. Add vegetable broth
in small batches to thin the dip to the desired consistency. Garnish
with chopped cilantro. Serve immediately or store in refrigerator for
up to 10 days.

I keep at least one crock pot going all the time. I cook every kind of
dry beans I can find divide them up into small batches and freeze them
for later. I use homemade vegetable or meat stocks, also made in my
trusty crock pots, and usually go easy on the seasonings so I can use
them as a base for other dishes.

This dip was really good with my home made chips.

Contributed to the FareShare Group by David; June 2013
www.fareshare.net

- - - - - - - - - - - - - - - - - -